All of us are aware of the fraud being done in the selling of laptops, their accessories, software and spare parts. One might sell a brand less cheap laptop by making it look like the latest branded one. Some others might sell trial or unauthorized software in the name of original or paid software at higher costs. Some might even sell generic laptop spares in the name of branded ones. While some can be easily distinguished, some remain tough to distinguish between the genuine and duplicate parts. It needs a keen observation and deep knowledge regarding the basic company details to distinguish genuine parts from the duplicate ones. This article in following paras will guide you on how to identify genuine laptop parts.
Checking the Bios:
On almost every PC or laptop, at the start-up, an option to access the system information is displayed. For example, in Dell laptops, at the felt logo, by pressing the F2 key on the keyboard, one access the system information. In that system information, one may find info regarding the parts connected to the laptop like a battery. In that info, the only genuine part is detected and any fake part is not detected by the laptop. It might be made clear whether the product is genuine or fake.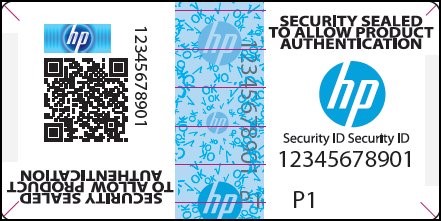 This feature is provided by many companies. On every company product and spare part, a security label is stuck which happens to be a proof of originality. Some of the brands like hp, they consist of holograms that move in particular directions when tilted in a particular direction. However, this security label differs in the fake products in any of the factors mentioned above.
Among basic identifications, holograms are one which is attached to original parts or products. Some times these holograms to are faked with typical similarities. However, in some or other ways there are at least minute differences between original and fake holograms. One needs to have a thorough knowledge of these differences in holograms in order to identify genuine laptop parts.
This feature among all others is best, as it provides complete variations among the fake and original products. Every original product has a QR code sticker attached to it. When this QR code is scanned by the QR code scanner app, it provides a security code, which had to be matched with the security code on the QR code. If the code doesn't match, then it is a fake product.
One can use the price of the product as an identification factor. If a product is being sold by a genuine company at a higher price than it is being sold outside, then the product being sold outside is fake ones. In such a way, depending on the price for which the part is being sold, one can identify genuine spare parts for laptop. Sri sai infotech uses only genuine Laptop parts in their services and replacements.
Most of the companies sell their products in official branded packaging. The fake ones are sold in a generic, plain wrapper or wrapped by bubble wrappers. If you are buying a part that is being sold in plain packaging, then it might be a fake one.
Every product or spare part has a unique tracking number stuck to the product as a sticker or printed over the product. Every company has its own unique starting number in this tracking number. If you buy an HP company spare part, genuine products of HP have "6" as the starting number in the tracking number of its products. If the starting number of any HP product is anything other than "6", then it is a fake product. Similarly, one must have knowledge of the tracking number basics of different companies.

This is the major identification mark which is seen in almost every product. This doesn't require a deep knowledge of any company or its product. This just requires a keen observation of the printed matter on the product. In the printed matter, original products do not contain any sort of spelling mistakes or simply to say, none of the printed words are misspelled. However, in most of the fake products, at least one of the words printed over the product is misspelled. By observing keenly, one can easily find out the difference between the genuine laptop parts and fake ones.
By above-given markers, it becomes easy for anyone to identify genuine spare parts for laptops and PC. It just requires a quote good knowledge of various factors that are given above in this article.